Providing Long-Term Solutions to Preserve the Life of Construction Materials

Offering a Complete Scope of Capabilities

Decades of Experience as Expert Witnesses
Harper-Brawner, LLC
Founded in 2003, Harper-Brawner, LLC provides roofing & waterproofing consulting services to address water intrusion, repair damaged facilities and design long term solutions to resist moisture intrusion, preserving the integrity of construction materials. We serve building owners, developers, construction firms and diverse clientele throughout the country.
Members of the International Institute of Building Enclosure Consultants.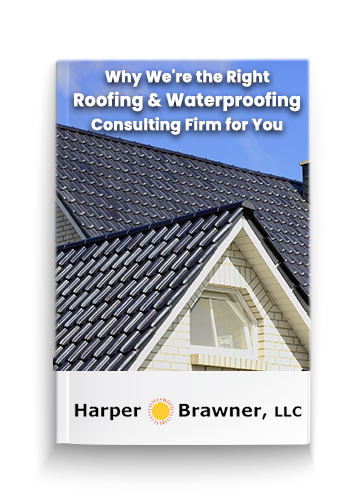 NEED ROOFING & WATERPROOFING CONSULTING SERVICES? READ ABOUT THE HARPER-BRAWNER DIFFERENCE!
Our experience as a roofing & waterproofing consulting firm coupled with our intrinsic focus on waterproofing, has made us an authority wherever unwanted moisture issues come into play
Moisture Prevention and Waterproofing
Intrusive water and unwanted moisture are the bane of any structure. You need only look at the Grand Canyon to see the erosive results of which water is capable. Water damage to infrastructure needs to be stopped and re-mediated before it has a chance to effect real damage. Harper-Brawner, LLC specializes in moisture prevention and waterproofing, delivering a complete scope of services to serve the needs of building owners, facility managers, construction companies, and other clientele. Our roofing & waterproofing consulting firm handles water issues at any stage of development.
Our Services Include
Experience and Expertise
Our experience as a roofing & waterproofing consulting firm coupled with our intrinsic focus on waterproofing, has made us an authority wherever unwanted moisture issues come into play. Let us help you pinpoint the right waterproofing solution. From our work identifying compromised building materials, to our forensic approach in tracing the source of unwanted moisture, to our knowledge of site prep and planning.
We Solve Moisture Issues
For expert insight into moisture mitigation or waterproofing for your established building or new development, contact our team of specialists today for a consultation. We're ready to help. Proudly offering roofing & waterproofing consulting services throughout Texas and beyond.
Learn More
Roofing & Waterproofing Consulting Firm
Harper Brawner is an architectural consulting firm that provides a wide range of services relating to roofing, waterproofing, building restoration, commercial window repair and replacement, and exterior building envelope analysis/consulting. We also serve as expert witnesses to help preserve the structural integrity of both new and existing facilities and extend the life of construction materials.
Commercial Roofing and Waterproofing
As a professional roofing and waterproofing consultant, we provide a wide range of evaluation and reporting services. Our experts will conduct a comprehensive physical survey of the exterior of your facility which includes examining, identifying, and documenting the details of the building's roofing system, waterproofing systems, vertical wall materials, windows, and other exterior features. We will also go through details regarding the roof's design, construction, and installation of the components of the exterior envelope, as well as look for any existing problems. Evaluation and reporting services will cover the examination of below-grade waterproofing systems and an analysis of their current performance. When required we also provide moisture testing for roofing using infrared imaging equipment. Once we have finished examining the facility, we'll complete an evaluation report detailing the condition of the building and identifying any defects, allowing us to put together and present a detailed, step-by-step plan recommending the best ways to address and correct the issues with your building.
Historic Building Revitalization/Restoration
Harper Brawner works on historic building revitalization and restoration. These services are designed to help preserve the architectural heritage and cultural value of the architecture. Once a client chooses to work with us, we will assess the facility to establish areas of structural or waterproofing distress and determine the amount of remedial work needed. We will also take time to review the existing design and provide an expert analysis of the work done to the existing roofing, waterproofing, and related systems. At the end of the evaluation, we will present the client with a comprehensive report detailing our findings.
Commercial Window Repair and Replacement
Before we recommend repairing or replacing your windows, we will carry out an evaluation process that involves site review and intrusive investigation, if required. We will work with the site representatives and the client during the entire process. In addition, we will ensure proper on-site coordination and observation during the inspection of window systems, vertical wall materials, waterproofing systems, and other exterior features. In some cases, to make sure that all windows are in good condition, we may work with a contractor and use intrusive investigation, having portions of the existing wall system at the exterior of the windows removed. This will be followed by an analysis of the conditions to determine if there is a need for window repair or replacement. The interior wall materials around your windows may also be removed so that areas of moisture penetration can be identified. The removal helps our experts determine whether we will need to repair or entirely replace your building's assets. Lastly, we will document the source of existing problems and the current condition of your windows within a written report.
Exterior Building Envelope Analysis
We understand that every building owner wants to make their facility comfortable and functional. Unwanted water entry through the walls, roof, or below grade areas create extreme problems within the building. As such, we work to establish a reliable exterior building envelope to promote the health and comfort of occupants. But what exactly is a building envelope? Simply put, a building envelope refers to the specific parts of a structure that separate the exterior and interior environments. For the building to be comfortable, it will be necessary to keep both water and air from leaking out of the building while also preventing outside water and air from getting in. We are experts in analyzing this and will identify the areas where seals and other materials need to be installed. Suitable areas may include the roof, the wall system, windows, doors, and related areas. In the end, we'll help you ensure that your building is both water tight and comfortable.
Disaster Response and Rehabilitation
We provide disaster response and rehabilitation services to assist with the timely remediation and to help people rebuild their businesses and their lives. Once we arrive at the facility site, our experts will carry out a physical survey of the damage, assess potential negative impact, and take emergency steps to assist in preventing moisture intrusion. We will also inspect the exterior walls' waterproofing and roofing to identify the need for repairs and determine long-term restoration solutions. Other areas of focus will include exterior windows, doors, and curtain walls.
Our disaster response and rehabilitation services also cover the prevention of possible additional damage and promoting the timely resumption of business operations. Before remediation work can begin, we will assess the extent of physical and water damage as well as look for evidence of concealed conditions. We will then work on the design of long-term remedial repairs and the replacement of doors, windows, walls, and roofs. We can also work with your insurance company to create a budget, prepare bid documents, and obtain written and photographic documentation for a favorable redmediation.
Expert Witness
We can serve as a construction expert witness for legal cases involving design and construction. Over the years that we have been in operation, we have been hired by insurance companies and attorneys to help strengthen their case in matters that are related to roofing, waterproofing, moisture intrusion, and other construction issues. We have experienced staff members who can easily identify construction flaws and identify areas with inappropriately designed and installed systems. The legal cases we have been a part of have covered a wide array of building types, from apartments and single-family houses to office buildings and retail stores. Our process involves visiting the site, developing an inspection protocol, comparing file information to our observations, performing research when necessary, preparing reports to document our findings, providing legal dispositions, and testifying in court. With the broad range of services that we offer, Harper Brawner, LLC is the top choice to act as a professional consultant for legal cases that involve commercial roofing, waterproofing, and related issues!